A Flask for Every Occasion
While there's nothing wrong with playing it safe in life, sometimes it's just no fun to walk the line. Rules were made to be broken, right? Right. We could talk all day and night about which rules must be adhered to versus the ones people break every day, but there's one universal fact we can all agree on—sometimes, you just gotta' sneak in a little bit of hooch.
Now listen, this doesn't mean whipping your 1/2 pint out at church or during a board meeting, but, from time to time, you're going to run into an event that requires you to stash a bit of Jack in your coat pocket. Equal parts logistics and panache, the act of "flasking it" isn't always easy, but it's worth the effort. Besides, how else are you going to get through your nephew's birthday party at BlazerTag?
The problem the AG has always faced, though, is what flask to buy. Plastic or metal? Pocket or ankle? There are just too many options. And, since the geniuses at NASA have yet to create a super-flask, we're just going to have to run this thing through line by line. Here goes…
The Hip Flask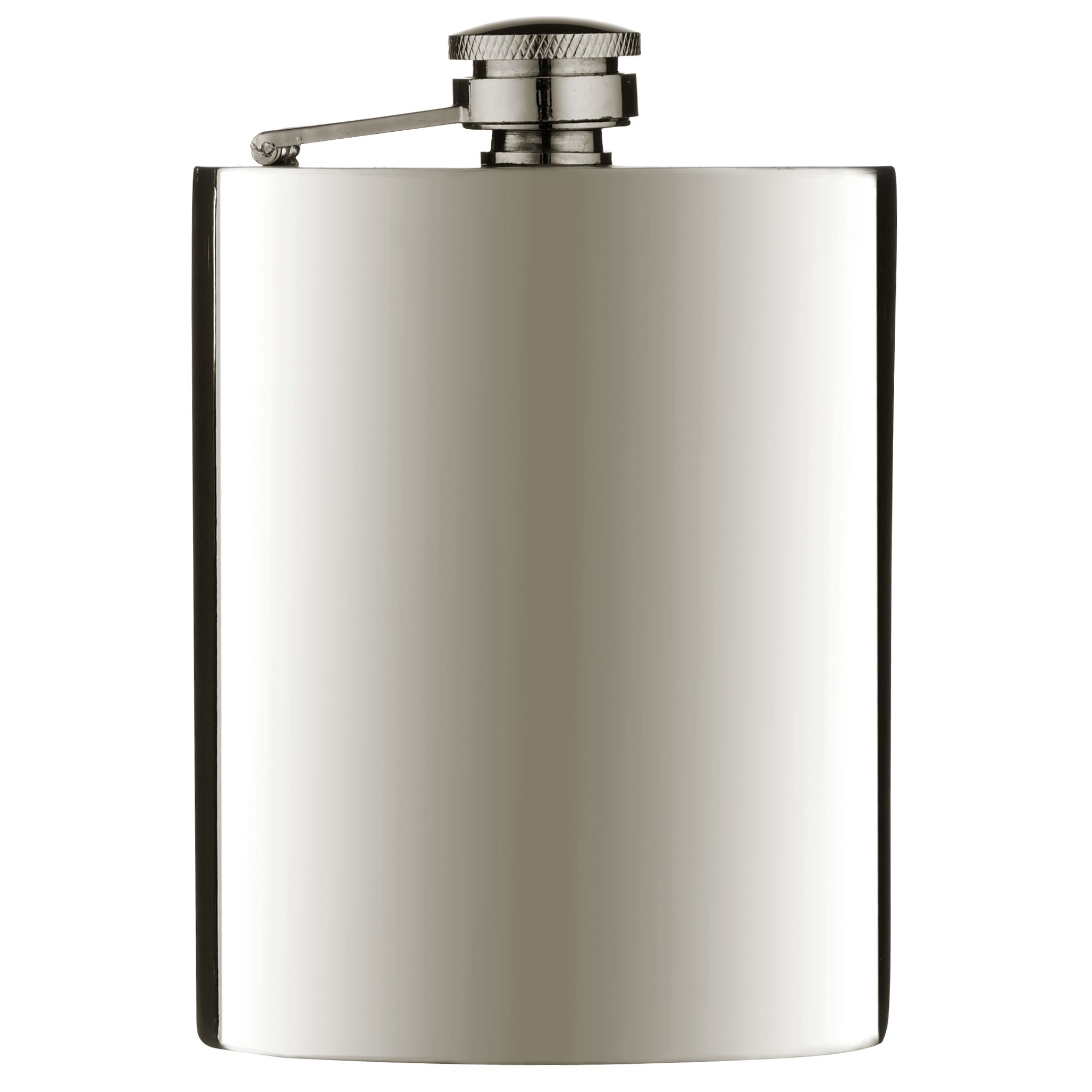 Tried and true, the hip flask is the epitome of classy and discrete alcohol transportation—the curved shape is made specifically for the inner breast-pocket of your suit. Available in silver or stainless steel, it's the perfect starter for any gentleman. The AG has three different hip flasks that were given as gifts over the years. If you don't have one of these, it's pretty much necessary that you pick one up. Even better, drop a hint to your lady friend that you would love one as a gift; if she has it engraved without you asking, she's a keeper.
USE IT… at weddings, funerals or any event that requires a tie.
The Plastic Flask
Cheap and sturdy, the plastic flask serves two purposes: transporting booze to the great outdoors and fooling metal detectors. Let's take those one at a time. Whether it's rough, back-country camping or just a bonfire at the ranch, you probably don't want to risk roughing up a good flask. A plastic version will take all the bumps and bruises you can dish out, and it won't matter how much you scratch it up. As for metal detectors, the AG can't think of anywhere you would need to sneak alcohol past a metal detector—besides prison or a Houston night club—but if you did, the plastic flask is your best friend.
USE IT… while and/or after hunting, on camping trips or while visiting your cousin T-Bone at the Travis County jail.
AVOID… the jumbo 24 oz. and 36 oz. models—who needs that much cherry-flavored vodka?!
The Floppy Flask
Once the king of college football contraband, Floppy Flask has apparently stopped selling their products. Nevertheless, a slew of knock-offs (like the Booze Belly, above) have come along to fill the void. Essentially, it's a durable plastic bag-and-hose system equipped with a nylon belt to keep it under your pants and around your waist—like a CamelBak with a sense of humor. Though they're built for and marketed to the college crowd, the AG sees no reason why Floppy Flasks can't be used by those of us with a few more years under our belts. "Is that 25 ounces of Glenmorangie Lasanta in your pants or are you just happy to see me?"
USE IT… at UT football games, Austin City Limits Festival (ACL) or on a family road trip
AVOID… over-filling the flask (it will bulge) and remember to seal it up TIGHT—If you spill a liter of gin on your pants, the cat's pretty much out of the bag.
The Bootlegger
Though relatively new to the market, the "Bootlegger" ankle flask has sold pretty well, and with good cause. Say you're sharing with a buddy who doesn't like the same stuff as you. Now you've each got three shots of your preferred poison. Say you like to pace yourself out and not just pour straight from the flask. This guy's got you covered for six perfect 1.5 oz. pours (six shots). Or maybe, just maybe, you want to have six different mini-bottles of liquor on hand at all times. You know what—scratch that last one. That doesn't even make sense…  [Special thanks to Uncrate.com]
USE IT… when you and your gal don't see eye to eye on what to drink—the AG has a lovely 'friend' that insists on drinking rum, so… yeah.
AVOID… stretching it out, lest it slide down your leg and reveal your 80-proof secret(s)
The Pocket Shot
Similar in concept to the "Bootlegger", Pocket Shots are 1.5 oz. servings of whiskey, spiced rum, vodka, gin and tequila—each of which, the website claims, is of top shelf quality. Though quite atypical, the Pocket Shot is somewhat convenient, if only for the fact that its flexible plastic casing is perfect for tossing into—you guessed it—your pocket. The "shot" concept really fits here, too. While the AG uses flasks for pouring mixed drinks, someone may, in fact, just want to do a shot. With this product, it stands to reason that you could tear off the top, throw back a shot of [allegedly] good liquor and toss the package. Easy enough, right?
[Dis]honorable mention…
Finally, the AG will leave you with  links to some of the products you really, really ought to avoid, be it for their difficulty, stupidity or both.
Time to sneak a little bit of good bourbon into a ball game, stay out of trouble and start living life better.
DISCLAIMER: The AG would like to be clear on two points. First, you should carry liquor on your person at your own risk (or benefit, if you're a "glass half full" kind of guy). Second, if you're going somewhere that sells alcohol, don't sneak it in. They're running a business, dammit, so just pay for it like a man. Go capitalism!